Few companies have the capabilities to custom manufacture items for their clients. Garments To Go, Inc. does. We work with major chains across the country to provide apparel made to their specifications.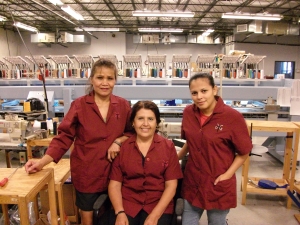 Our sewing department is run in a modular fashion with over 25 pieces of state of the art Brother equipment.
Modular sewing gives Garments To Go, Inc. a competitive edge for a high output of finished products, yet maintaining excellent quality standards.
We have the ability to fully manufacture 1000 waist aprons in one day's time.

Contact our sales department at 800.967.5864 to see how we can meet your custom garment needs.