With embroidery becoming more and more popular, Garments To Go, Inc. has three embroidery machines capable of running 39 pieces at once, using up to nine different colors of brilliant rayon thread.
Each machine is able to embroider caps with a 270° sewing radius to include the sides, as well as the front of the cap. Cap backs can also be done with quick change of equipment. Jackets, golf shirts, bags and much more can all be customized with embroidery. All of our machines run at an average of 750 stitches per minute and still maintain a high and constant level of quality.
Here at Garments To Go, Inc., we use only the best embroidery equipment and high quality threads to insure a great, embroidered product every time. Since we do our own digitizing in-house, our capabilities are limitless. If you can imagine it we can produce it in a fantastic way.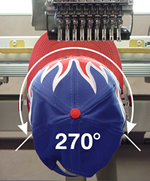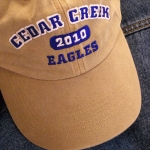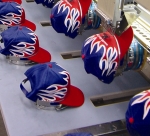 Contact our sales department at 800.967.5864 to see how we can meet your embroidery needs.